Sydney Rudolf Steiner College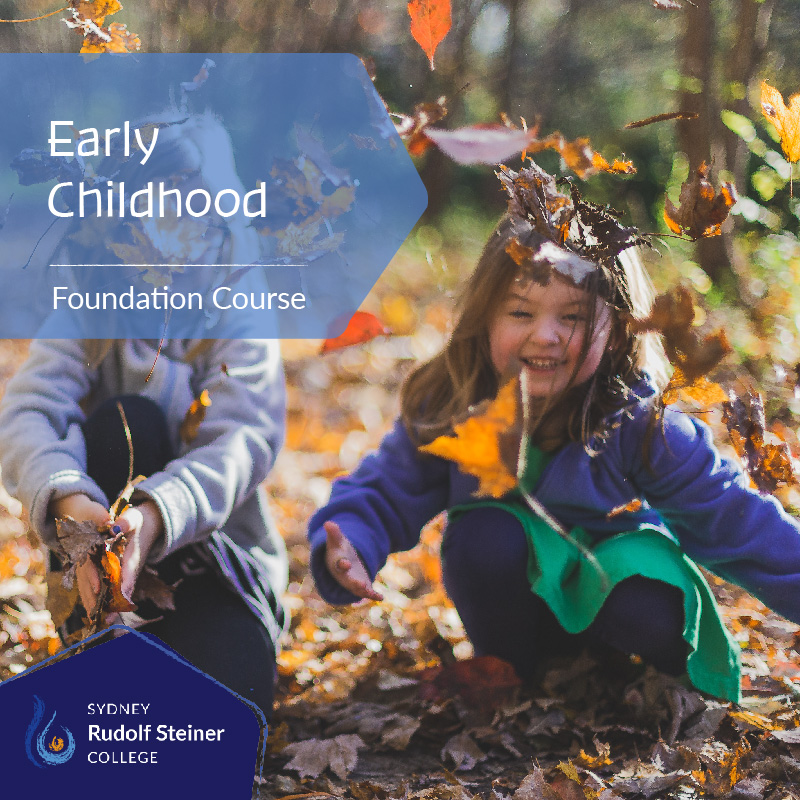 Nurturing Early Childhood - Saturday Workshops

Join us in Sydney for four Seasonal Saturdays to develop your creativity and skills for home or education environments, with inspiring talks based on the philosophy of Rudolf Steiner.
In these workshops you'll learn about the art of storytelling and the wisdom that lives in Fairy tales. You'll enjoy a workshop in clay modelling, nutrition and biodynamic processes, and craft your own simple doll, among other creative and inspiring activities.

Guided by experts in Early Childhood, this course can be completed in part or in full.

Enrol now for the first Saturday workshop on 26 Mar 2022.

Learn More

offers a variety of courses: a full-time course, the Advanced Diploma of Rudolf Steiner Education, as well as part-time non-accredited certificate courses.

Early Childhood Rudolf Steiner Education
This one year part-time course will offer early childhood educators in all settings an inspiring professional development opportunity to develop new skills and deepen their understanding of Rudolf Steiner education for the 'vital years' of early childhood. It is also very suitable for anyone interested in education, personal development and the arts who loves lifelong learning – everyone is welcome!
This online course will be live-streamed, allowing you to engage directly with the Tutor. It will also be recorded for those people in time zones around the world.
Our part-time courses are non-accredited and do not lead to a qualification within the Australian Qualifications Framework but rather offer a Certificate of Professional Development upon completion.
For information about the online Early Childhood course in 2022, look here
Rudolf Steiner College Perth offers an introduction to Rudolf Steiner's work and professional development opportunities for teachers and all those interested in a contemporary path of self-development.
Exploring Anthroposophy and the art of being human:
A series of short courses, weekend intensives and one-day workshops for those curious about the work of Rudolf Steiner and its relevance to us today.
Course for Educators and Parents - 2022
The Heart Spaces course is a year-long, part-time program that takes place on Saturday afternoons online. There are eight sessions per term for four terms. There are 32 sessions of 3 hours each and fees are $1680 per year ($420 per term). To help build social hubs you are encouraged to form small geographical clusters and attend online sessions together.
This course offers a nurturing space to develop as a creative, authentic educator and parent through a range of experiential learning techniques, groupwork, discussions, facilitated processes, lectures and reflections. It also serves as professional development for experienced educators to renew and recharge their forces. It provides very practical and imaginative essences of Rudolf Steiner's insights into human development.It facilitates the development of creative storytelling skills over four major projects.
You are provided with opportunities to develop skills in a variety of crafts such as dollmaking, puppetry, felting, silk dyeing, papercrafts, making moving pictures and shadow theatre. We regularly practise movement, singing, painting, drawing and claywork.
More than 85 % of our graduates have either found work in Steiner Early Childhood settings, Family Day Care or Bush kinder. Some were in mainstream settings already and have transformed the way they work with children. Others are involved in Steiner educational roles, further training, or in community child care services.
Testimonials
'One may think one is enrolling in a child-study course, but it is so much more than that. It is a place of playful, yet deeply reflective self-learning and understanding - inner work can actually be fun, pleasurable, creative, engaging and socially inclusive! On the way to discovering the joys of relating with children, I feel I have uncovered and retrieved my own happy and vital inner child - the greatest blessing.' (SL: 2020)
'Carol presents Steiner Education in a way that is relevant for our current world. Her course is a breath of fresh air that prepares us to meet the challenges of our time with courage in our hearts.' (RB: 2020)
The program is run by Carol Liknaitzky, who has been an adult educator for the past 40 years, and has extensive experience in the early childhood sector, human and child rights and works in a variety of settings including universities and remote communities in Africa and Australia. She has been running the Heart Spaces Course in Australia for the past 10 years. For more information and to enrol please go to: https://www.heartspaces.com.au/early-childhood-courses
This email address is being protected from spambots. You need JavaScript enabled to view it. 0415 603 077